Micro bescuit de iogurt amb teula de maduixa de Ferran Adrià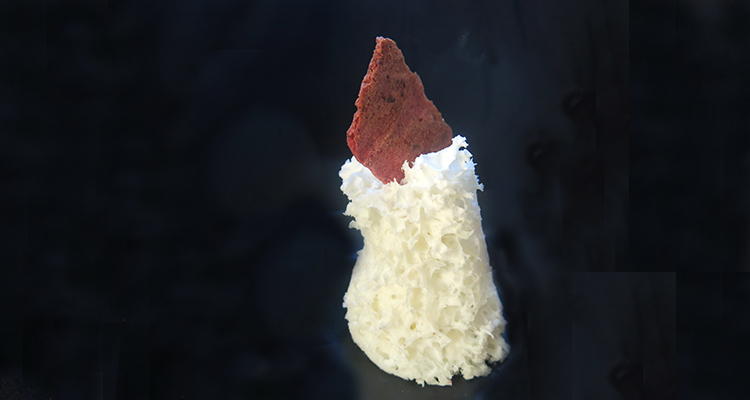 Aquest mes, les noies de Cooking the Chef anaven fortes. Ni mes ni menys que Ferràn Adrià ! La primera idea ha estat sortir del pas amb una recepta senzilla i asequible com les que mostra en el libre La cocina de la familia. Pero he despres he pensat. -Que carai ! no tornaré a tenir una oportunitat tan bona d'experimentar amb els liofilitzats, els sifons, les textures, les esferificacions i altres històries relacionades amb la cuina molecular.
I aqui em teniu. Després de revisar a fons el web Albert y Ferran Adrià he trobat un parell de coses que he vist assequibles i amb estris que tinc a l'abast (el Roner i el kit d'esferificació ja arribaran :): el Microbizcocho de yogurt (a Surprises) i la Teja de Lyoalbaricoque (a Lyo-Sabores).
Llavors ha arribat el moment d'aconseguir els ingredients "especials" i he vist que els Adrià han obert una línia de comercialitzacio amb  Solé i Graells del Grupo Guzmán. Tot i que tenen botiga en línia, jo he aprofitat que sortia d'una vigilància d'exàmens pesadeta i m'he arribat a la seva botiga física, situada al c/ Príncep Jordi, núm 2 (entre estacio de Sants i Plaça Espanya) : La botiga es impressionant i us recomano que us hi passeu. Trobareu absolutament de tot, i mes coses que no sabíeu que existien. Una experiència absolutament recomanable.  Un cop allà, em vaig proveir d'un pot de Yopol i un de maduixa liofil.litzada.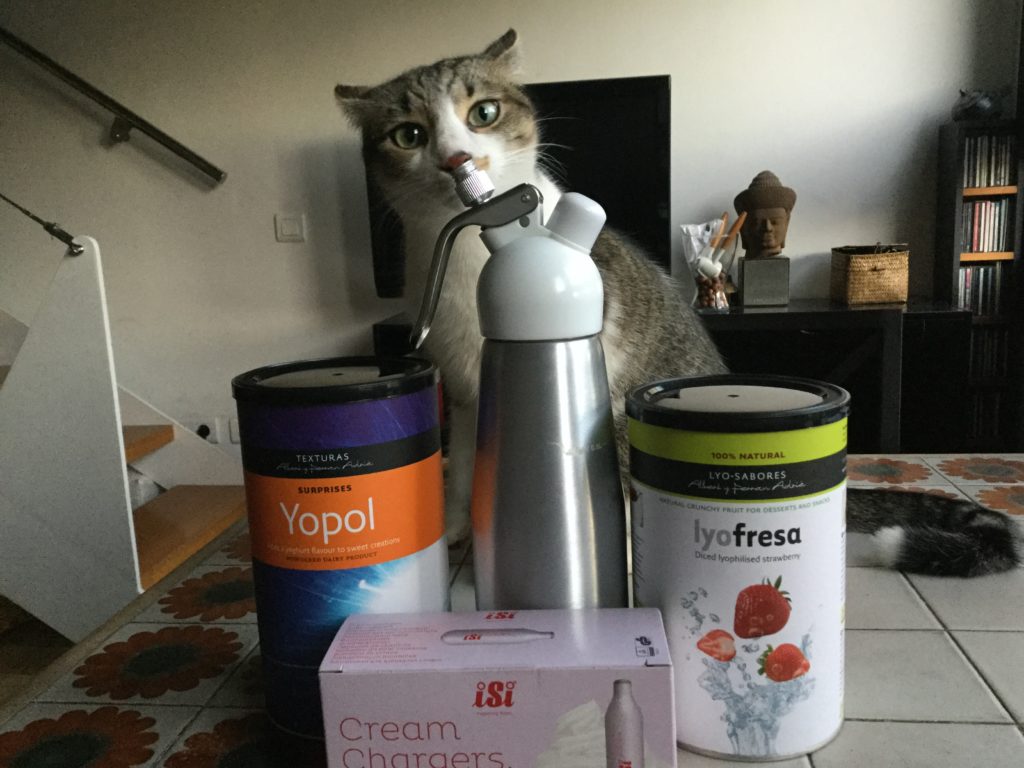 I ja preparada amb to allò necessari , em vaig disposar a començar a experimentar
Per al microbescuit de iogurt
300 gr de clara d'ou
60 gr de sucre glass
60 gr de farina d'ametlla
60 gr de Yopol
20 gr de farina blanca
Estris
1 sifó de cuina
3 càrregues de N2O
Gotets de plàstic
Per la teula de LyoMaduixa
50 gr de sucre
50 gr d'aigua
10 gr de LyoMaduixa en pols
10 gr de farina
10 gr de mantega pomada
Pel bescuit de iogurt al microones
Triturem i barregem tots els ingredients (el sucre, les farines, el Yopol i la clara d'ou) fins que quedi una barreja molt fina, força líquida i sense grumolls. La colem (per evitar que cap grumollet l'embossi)  i la posem al cos del sifó. Afegim 3 càrregues de gas, sacsejant enèrgicament entre càrrega i càrrega. Ho reservem a la nevera.
Fem tres talls al cul dels gots de plàstic i els omplim 3/4 parts de la seva capacitat amb el sifó. Els introduïm un a un al microones (al vídeo de Ferran Adrià en posaven tres o quatre, pero a mi no em van pujar igual que si els feia un a un) i els coem 30 segons a potència 900w.
Els traiem, els deixem refredar i el desemmotllen amb compte amb l'ajut d'un ganivet esmolat.
Per la teula de LyoMaduixa
En primer lloc , farem un almívar TxT (Tant x Tant: igual pes d'aigua que de sucre). Barregem el sucre amb l'aigua i li fem arrencar el bull. Un cop ja bull, tanquem el foc i ho deixem refredar a la nevera.
Triturarem els bocins de maduixa amb l'ajuda d'una trituradora o be amb un corró posant els bocins entre dos papers de forn.
Llavors barrejarem 45 gr de l'almívar que tindrem reservat amb la pols de maduixa i la farina. Ho triturarem molt be amb el pímer. Un cop estigui ben lligat, incorporarem la mantega pomada i quan ja estigui homogeni, ho deixarem reposar a la nevera.
A partir d'aqui, Ferran Adrià recomana l'utilització d'una plantilla Croquanter per fer formes a la teula. pero com que jo no en tenia, m'he limitat a repartir-la amb una espàtula sobre un paper de forn.  Quedarà irregular però ja m'agrada.
Ho courem al forn a 140º durant 20 minuts. Un cop cuit, ho deixem refredar i ho trenquem amb les mans fent formes irregulars que ens serviran per acompanyar el bescuit.
A la Banda Sonora, aquesta recepta l'he ballat amb la cançó Fragile N.4 de Dustin O'Halloran
---
---