Bistecs russos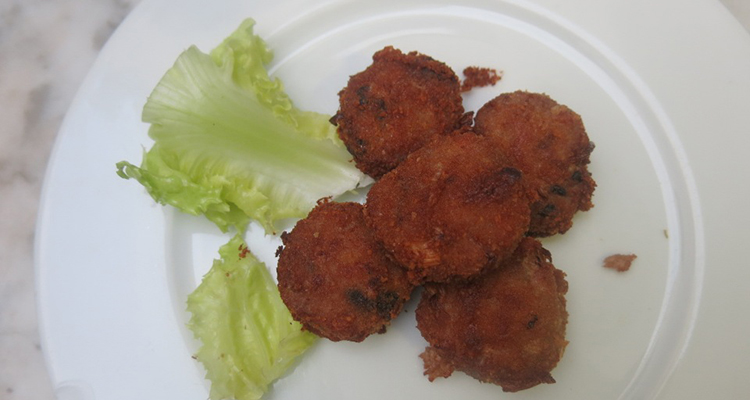 Això del bistec rus és una recepta que em torna a la infantesa. Llavors, les hamburgueses es menjaven així, arrebossades amb pa ratllat i "tira que te va". En el millor dels casos s'hi posava una mica de formatge al centre, que es fonia quan es feia. Era un plat gustós i econòmic que -coses de les modes- s'ha deixat de fer, substituit per la sempiterna hamburguesa. Però com que jo tinc un punt nostàlgic i alhora innovador -he he he- he rescatat la idea base afegint alguna coseta de la meva banda.
Necessitem
Un porro
50 gr de barreja de bolets secs
500 gr de carn picada -vedella i porc
un parell d'ous
Pa ratllat
Sal
Posem en remull els bolets una mitja hora en un bol amb aigua tèbia. Un cop  s'han hidratat els tallem a bocins ben petits. Tambe tallem el porro en juliana. Ho saltegem amb una mica d'oli a la paella fins que el porro i els bolets estan cuits. Ho deixem refredar.
A banda, batem els ous i afegim la carn picada. Jo acostumo a fer servir barreja de porc i vedella, pero la proporció va a gustos. Ho barregem amb una forquilla i hi afegim el porro i els bolets. Ho acabem de remenar. Per acabar de donar consistència, afegim una miqueta de pa ratllat i ho salem al gust.
Ara anem fent petites hamburguesetes que arrebossarem amb pa ratllat. Jo he fet servir la falafelera que vaig portar l'any passat d'Israel, pero tambe es pot fer a ma encara que no quedaran tan homogènies.
Un cop fetes, les fregirem amb oli abundant a la paella. Si en tenim moltes, les podem congelar i menjar-ne quan ens convingui. Si és que en queden.A la Banda Sonora d'avui, un "temazo" d'aquells clàssics:
Seasons of Love
del musical Rent. Si, aquella del -Five hundred twenty-five thousand six hundred minutes, How do you measure, a year in the life?  #ganesdemusical!
---
---