Pastis de xocolata i cervesa negra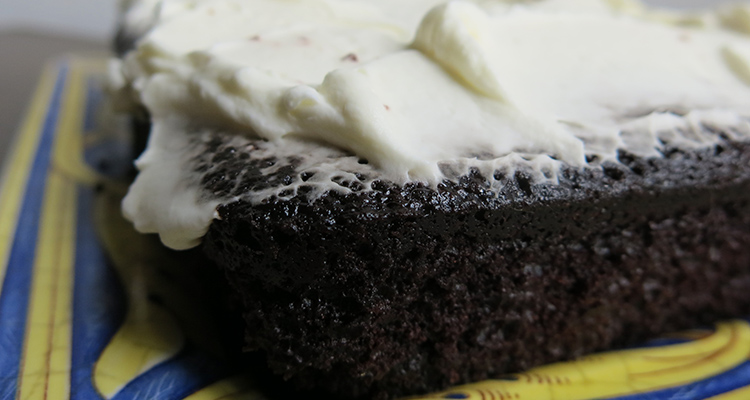 Per culpa del concurs de cuina per a bloguers organitzat per la revista Cuina, he estat investigant sobre els usos culinaris de la cervesa. I una interacció que sortia de forma sistemàtica era la de la cervesa negra i la xocolata, De fet, totes les receptes que anava trobant coincidien en que la cervesa negra potencia el gust de la xocolata.
L'origen d'aquest pastís el trobem a Irlanda amb el seu Chocolate Guinnes Cake.  Una bomba de rellotgeria calorica que hem adaptat al gust local. Enlloc de Guinnes, m'he decantat per una cervesa artesana, la Simone, feta per La Calavera Brewing Coop, de Sant Joan de les Abadeses, i distribuida per la sabadellenca The Rolling Beer. I comprada als amics de Bodega la Riera (Ateneu Popular de Vallcarca) que de cerveses en saben molt.
Val a dir que aquesta recepta ho te tot. És facil, utilitza ingredients que tenim per casa i el resultat és espectacular. I és apta per a menors addictes a la xocolata, perque l'alcohol s'evapora completament.
Necessitarem
250 ml de cervesa negra
250 gr de mantega
3 ous
150 g de nata liquida
250 gr de farina
350 gr de sucre
75 g de cacau en pols (Valor)
1 culleradeta de sucre avainillat
2 culleradetes de bicarbonat sòdic
Per a la cobertura:
150 g de formatge Philadelphia
75 g de sucre llustre
150 ml de nata per muntar
[amb aquestes mides surt un pastis força generos del que poden menjar tranquilament 8 0 10 persones. Es poden reduir les mides a proporció]
Començarem escalfant la cervesa i la mantega a bocins en un cassó. Quan la manetga ja estigui disolta, ho retirarem del foc. A banda, haurem batut els ous i afegit la nata líquida. Un cop ben remenat, hi abocarem la barreja de cervesa i mantega (que haurem deixat refredar una mica per evitar que qualli els ous)i ho remenem.
En un bol a part, barrejarem els ingredients secs del pastís: farina, sucre, el cacau, el sucre vainillat i el bicarbonat. Com veiem, no hi posem llevat Royal perquè el bicarbonat interactua amb la cervesa i ja fara d'impulsor suficient. Integrem be tots els elements sòlids i hi aboquem la barreja líquida a tandes. Anem remenant per a que no quedin grumolls. El resultat serà una massa mes aviat líquida, que posarem en un motllo hermètic (de silicona o de metall vigilant que el liquid no surti de les juntures)
Haurem pre escalfat el forn a 180 º i enfornarem el pastis uns 20 minuts. Si veiem que es torra massa la part superior , la podem tapar amb paper de plata  fins que el pastis estigui cuit. Ho sabrem punxant una agulla o un escuradents.
Un cop freda, prepararem la cobertura. Es mol senzilla. barrejarem el formatge amb la meitat de sucre i muntarem la nata amb l'altra meitat. Barrejarem les dues preparacions amb gentilesa fins que quedin ben integrades. I llavors simplement cobrirem el pastis simulant l'escuma de la cervesa. Ho reservarem a la nevera fins el moment de servir.
Sláinte !
A la Banda Sonora, i en homentage a la cervesa que hem utilitzat, avui sona I Put a Spell on You de la gran Nina Simone. O la seva meravellosa versió de Here Comes the Sun.
---
---