Bescuit d'Earl Grey, amb espígol i nabius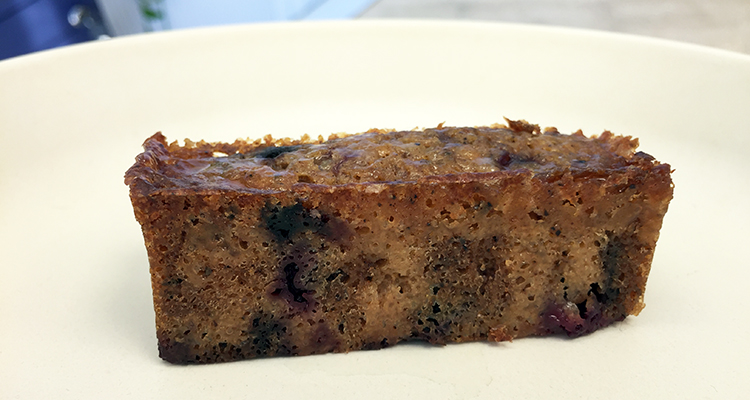 When tea becomes ritual, it takes its place at the heart of our ability to see greatness in small things. Where is beauty to be found? In great things that, like everything else, are doomed to die, or in small things that aspire to nothing, yet know how to set a jewel of infinity in a single moment?
Muriel Barbery, The Elegance of the Hedgehog.
Encara que no acaba d'arribar el fred, la Tardor ja ha arribat. I comença a venir de gust prendre un te aromàtic i saborós acompanyat d'un coc amb olor  de flors i fruits del bosc. La bergamota del te Earl Grey combina amb el delicat olor a espígol i el nabiu li dona un contrapunt boscà.
Necessitem:
1 bosseta de te Earl Grey
80 grams de mantega fosa
100 gr de sucre
2 ous
1/2  iogurt natural (60 ml)
la pell rallada d'una llimona
200 gr de farina
2 culleradetes de llevat en pols
1/2 culleradeta de bicarbonat
1/4 de culleradeta de sal
1 culleradeta de canyella en pols
1 culleradeta de flors seques d'espígol
125 gr de nabius frescs
Pel glassejat
65 gr de sucre en pols
Suc de llimona
Engega el forn i el deixes escalfant a 180º.  Prepara el motllo o motlles petits pintant-los amb mantega i empolsinant-los de farina. Reservar-lo.
En un bol, barreges els ingredients secs: farina, llevat, bicarbonat, sal, canyella i flors d'espígol. A banda, infusionem la bosseta de te uns 10 minuts en mig got d'aigua.
Mentrestant, fonem la mantega i la batem juntament amb els ous i el sucre fins que quedi una massa lleugera i esponjosa (2-3 minuts). Tot seguit afegim el iogurt i la pell de llimona.  i ho batem de nou.
Afegim el te i les fulles de dins la bosseta a la massa i ho barregem de nou. Finalment, aboquem la barreja en el bol dels ingredients secs i ho lliguem tot de manera que no quedi cap grumoll. Afegim els nabius i els incorporem amb una espàtula.
Ho deixem reposar una estona i ho aboquem dins del motllo preparat. L'enfornem uns 25 minuts , comprovant que estigui cuit amb una agulla o escuradents. Un cop cuit, el deixem refredar uns 10 minuts abans de treure'l del motllo i deixar-lo sobre una reixeta.
Per a fer el glassejat , barregem el sucre glass amb el suc de llimona fins aconseguir una barreja espessa. El truc es anar afegint la llimona a poc a poc fins aconseguir la textura necessària i anar remenant sense parar. Aboquem el glassejat sobre el bescuit calent i deixem que es refredi i qualli abans de servir-lo
A la Banda sonora una música que porta aromes de jardins victorians:  Mrs Dalloway: In the Garden, de Max Richter (Three Worlds: Music from Wolf Works, 2017)
---
---