Delicia de mascarpone i torró amb xocolata blanca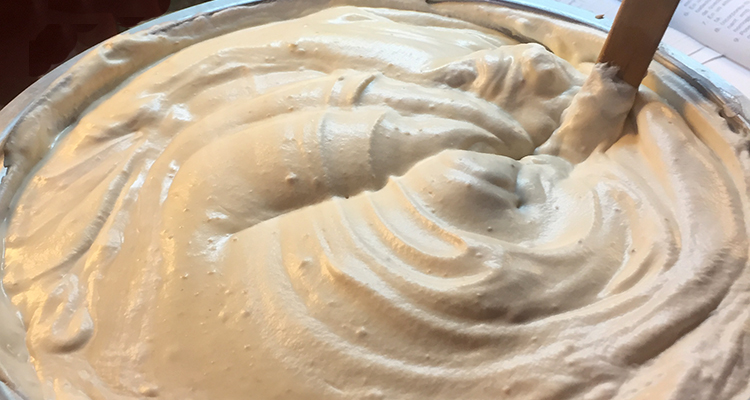 Ho te tot: es fàcil, agrada i és recepta de la Mireia Carbó. garantia que sempre surt. Serveix per aprofitar els torrons que sobren. En el meu cas, en vaig fer mes de cinquanta racions per la festa de casament de la Jan i la Henna. I tothom va escurar fins el fons.  La única pega és que precisament de règim no és. Pero un dia és un dia i amb moderació es pot menjar de tot . De vegades ens mereixem un homenatge, no?
Necessitem
250 gr de mascarpone
200 ml de nata líquida per muntar
150 gr de torró de Xixona
150 gr de xocolata blanca
100 ml de llet
2 fulls de gelatina
Posem en remull els fulls de gelatina i ratllem el torró amb un ratllador. Un cop això estigui fet, escalfem a foc molt suau la llet i la xocolata blanca per a que es vagi fonent. Un cop fosa, la retirem del foc i hi afegim els fulls hidratats i escorreguts de gelatina.
A banda, muntem la nata amb la batedora fins que agafi cos. En un bol diferent, barregem el mascarpone i la xocolata fosa. Hi incorporem el torró ratllat i finalment la nata muntada. Aquesta la anem incorporant amb l'espàtula de silicona de manera que no perdi volum (remenant de ldalt a baix)
Finalment, ho posem en vasets o copetes individuals i ho deixem a la nevera fins el moment de servir. No utilitzeu recipients massa grossos, ja que el postre es contundent i massa quantitat embafaria molt.
Es pot fer d'avui per demà, pero millor no ho congeleu que perdria la textura. Ho podem decorar amb fulles de menta o torró ratllat.
A la Banda Sonora, avui una canço de les que van marcar una època. This Must Be The Place dels Talking Heads. Com sempre, hi han covers interessants, com la versió dels Iron & Wine , la de Shawn Colvin o la de Gloria.
---
---